At TNC Community, we advocate for interdependent living, community education and inclusion for each of our supported individuals. It is our responsibility to them a platform to succeed in life's challenges. Watching our residents overcome challenges and witnessing their growth is a tremendous source of pride for all of us. Thanks to the foundation we provide and the hard work of both residents and staff, tremendous progress is made by individuals throughout the agency, as illustrated by the success stories shared below.
GETTING A KICK OUT OF LIFE
This individual has made amazing progress since coming to TNC. Before living at one of our Individual Living Homes (ISL), he had been in behavioral therapy multiple times a week. He struggled with anxiety in group situations, which caused him to pace and manipulate his hands constantly. With our supportive services, his anxiety has been greatly reduced, and he is now content for longer periods of time. The staff are not only caregivers, but become friends of our supported individuals. Often times, we are considered part of the family. This bonding has no doubt contributed to the successes of this individual. Group anxiety or 'hanging out' with others was previously a challenge, but he now plays outside with staff every day.
Recently, this individual attended a KC Sporting Soccer Ability Camp where he was able to participate and play soccer with other campers. This was a huge step in his life and has made a world of difference. His enthusiasm and willingness to attend a group event like this was a milestone celebrated by everyone at TNC. The staff had never seen a smile on his face until recently. Now, he smiles frequently!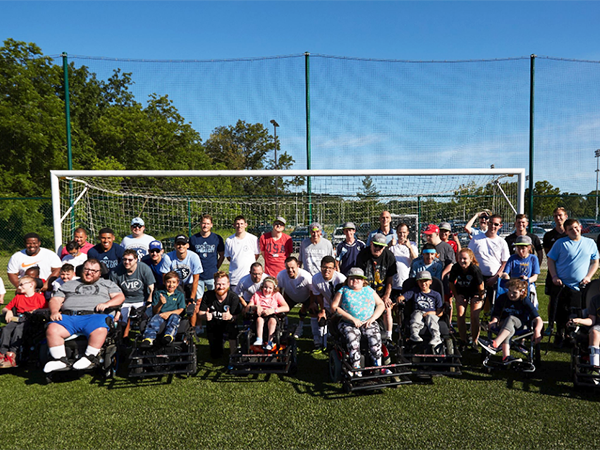 GIRL'S TRIP!
Traveling the wide open road with friends is where memories are made that last a lifetime. Stories are shared and experiences are embraced with abandon. It was on one Friday afternoon that Mary and Bernice decided it was the perfect time for a girl's trip. Mary and Bernice are residents of our Sterling Individual Living Home and receive supportive services from TNC Community.
Mary, who has minimal speech, adores animals and is very outgoing. She is always adorned with colorful beaded necklaces and bracelets before leaving her house to start the day. Bernice is more gentle and soft spoken. She attends church services regularly and is interdependent. Bernice uses a wheelchair for mobility. After packing their bags and a quick stop at the TNC Community headquarters to bid their farewells to staff, Mary, Bernice and their direct care staff left exclaiming, "Girl's trip! Girl's trip!" as they headed down the highway to Branson, Missouri.
Upon arrival in Branson, the ladies hit the town! The first stop was an interactive stage play, "Samson-Live On Stage" at the Sight and Sound Theatre. And no girl's trip would be complete without some shopping. The hunt for the perfect memento to commemorate the event was on at the local souvenir shops. The girls settled on a specialized time period photo. With everyone dressed in western attire, the ladies were given props from the era to give the photo an authentic look. The theme of the photo was "Gangsters and Dolly." Mary and Bernice chose to dress as showgirls and the direct care staff wore gangster costumes. The picture captured the moment and sums up their trip perfectly. It was a fun and fulfilling adventure and exactly what they wanted.