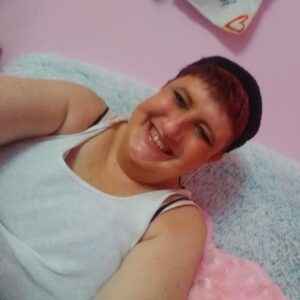 Dramatic Health Improvement for New TNC Individual
Kelly's health improvement after just 2 months at TNC was phenomenal! Born with a heart defect related to a developmental disability, Kelly's pulmonary valve was replaced at age 6. As an adult, Kelly lived in a care facility where she wasn't finding health or happiness.
In October 2020, she moved to TNC after a 5-day hospital stay with acute heart failure. She was at 30 percent heart function, struggling to breathe, and being considered for a heart transplant. "Her health was so precarious," said Kelly's mom, Carol.
Specialists—and Carol—credit the care given by the TNC Team for Kelly's dramatic recovery. By the end of November, Kelly's heart was back to her normal level of function and doctors were no longer considering a transplant. "The TNC staff was just awesome!" Carol said, explaining how they monitored Kelly closely and found ways to accommodate her wants and needs within a strict care plan.
Kelly is thriving thanks to this great care, and because she likes her home. Carol said, "Everyone has emphasized to Kelly that TNC is her home, and they do things to make her comfortable in her home." That includes her own crafting space in the main part of the house, and a bedroom painted in her favorite pink and decorated with dreamcatchers and journals she created.
"I like it," Kelly said. "I like being able to be independent."
Kelly's story illustrates what sets TNC Community apart as the region's foremost provider of high-quality services to individuals with developmental disabilities:
Our Health Services Team works closely with TNC staff to consistently deliver expert care for our individuals' special health needs.
TNC is home, where individuals with IDD find comfort and pursue the life that fulfills their goals and desires.