TNC Individuals Enjoy Prom in Kansas City
It was truly a night to shine as several TNC-supported individuals got dressed up in tuxedos and nice dresses to attend a prom night experience. The night of pampering took Melissa's confidence through the roof. Throughout the night she reminded staff, "I know I look good!"
Night to Shine KC rolled out the red carpet for their 7th annual event for hundreds of individuals with intellectual and developmental disabilities, including nine from TNC Community. They were greeted by costumed super hero and Star Wars characters as they entered Science City at Union Station to mingle and dance the night away. Ultimately each guest is crowned as prom royalty.
Created by the Tim Tebow Foundation and hosted locally by Summit Point Church, Night to Shine is held annually in all 50 states and around the globe to celebrate adults with developmental disabilities. In 2022 more than 721 churches came together to host approximately 115,000 honored guests with the support of over 215,000 volunteers!
TNC Community champions equity and inclusion for people with disabilities so each night can be a night to shine. Founded in 1949, TNC is a registered 501(c)(3) nonprofit under Harry S. Truman Children's Neurological Center, EIN number 44-0608429.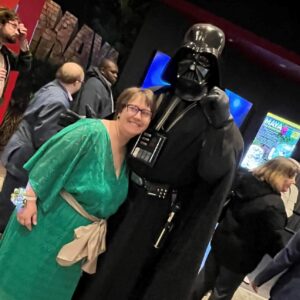 Melissa got to meet Darth Vader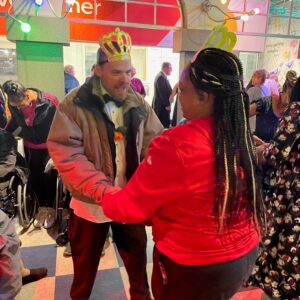 John sports his crown on the dance floor with staff