TNC Honored for Excellence in Impact 
"Thank you to our supportive families, guardians, and individuals," said Kelly McGillis, TNC Community CEO, as she accepted the headlining award at Nonprofit Connect's 38th annual celebration of the region's nonprofits on May 18. Kelly also thanked the board of directors and local agencies and foundations that have generously supported TNC Community's mission and services. "Most of all, I want to thank the TNC Community Team of about 130 dedicated staff members," she continued; "This award will help remind our staff that what they do matters."  See the video by Nonprofit Connect.
In a community with well over 3,000 nonprofit organizations, being recognized with the Excellence in Impact Award was a huge opportunity to introduce TNC and the importance of what we bring to the Kansas City area to a broad audience. The theme of the awards focused on "lifting" the community and "rising above" difficult circumstances. TNC Community has navigated the challenges that have continued since the 2020 onset of the pandemic. The need for residential and community integration services has continued to increase exponentially, alongside nationwide staffing shortages and cost increases. TNC was able to overcome these barriers to expand capacity to serve 60% more individuals with intellectual and developmental disabilities.
We didn't do it alone and are grateful to all who support TNC Community.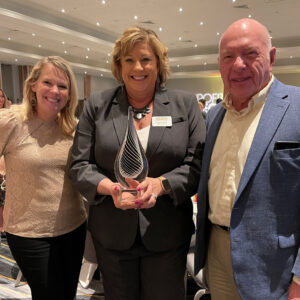 CEO Kelly McGillis (center) with Board Secretary Tonya Simmons (left) and Board Chair Doug Hall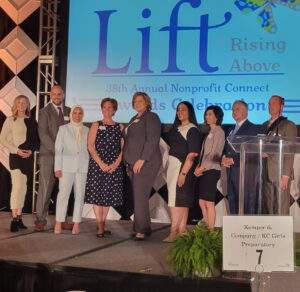 Kelly McGillis (center) represents TNC Community on stage with other Nonprofit Connect honorees