TNC Named City's Nonprofit of the Year
Nonprofit Business of the Year and an Excellence in Impact Award—these prestigious accolades were bestowed on TNC Community for our outstanding quality and growth of services. "Winning these awards is such a wonderful acknowledgement of our services and the loving care our staff provide every day," said CEO Kelly McGillis. "Our workforce of dedicated people are true heroes!"
For 2022, TNC Community received the Excellence in Impact Award from Nonprofit Connect and Nonprofit Business of the Year from Independence Council for Economic Development. In a region with nearly 3,000 nonprofit agencies, these are outstanding recognitions. See the video by the Independence Council for Economic Development.
The Independence Council recognized honorees in seven categories for its 10th annual Business Awards celebration on May 12. The Nonprofit Connect awards—it's 38th annual—is Kansas City's oldest and largest celebration of nonprofit excellence. Past award recipients include Big Brothers Big Sisters, United Way, and Children's Mercy Hospital. Awards will be presented May 18.
These awards recognize the difference TNC makes for individuals with developmental disabilities and our ability to expand services during times that were the most challenging for service providers across the nation. Since 2020, TNC has grown to serve 60% more individuals with IDD. By summer 2022, we will have gone from offering around-the-clock support in 10 homes to 16, plus we added an Independent Living Assistance Program to facilitate community integration for individuals living on their own with IDD.
"I am extremely grateful for the partnerships that made this possible," said Kelly. "Thank you to our families, the agencies and people in the community who support us, and our committed staff."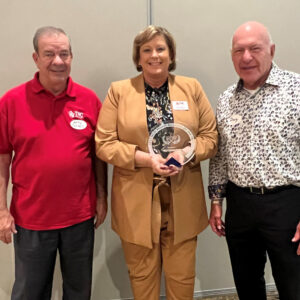 CEO Kelly McGillis (center) with Board Chair Doug Hall (right) and Board Vice Chair Jerry Cornell