TNC Direct-Care Staff Are AWESOME!
Executive Director Kelly McGillis welcomed TNC employees to the first company-wide gathering in more than a year on May 18, 2021: "I'm so happy we can gather in the same space as a team, and I'm grateful for everything you have done to keep the individuals we support safe, healthy, and happy as we've navigated through the COVID-19 pandemic."
Enthusiasm grew throughout all-staff gatherings as Value Awards were presented, small groups collaborated with board members to share plans and ideas, and agency-wide success stories were shared.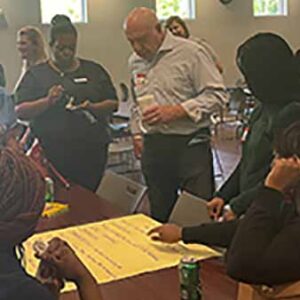 TNC staff and board members collaborate to explore defining the organization's core values.
Joyce Dixon was honored for creating a respectful work environment by strengthening communication within the TNC Team.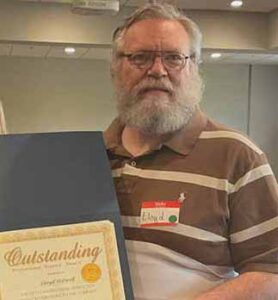 Lloyd Stilwell was honored for the respect he shows the individuals he supports and everyone with whom he interacts.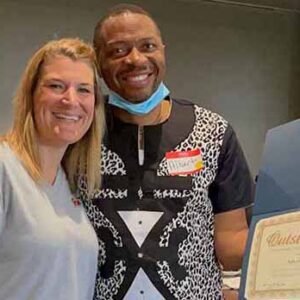 Albert Funjong was honored for the great kindness he shows TNC individuals when he is feeding them a meal, changing their garments, and engaging them in conversation.
Loving Care
Jackie Burns, personal support attendant
Albert Funjong, personal support attendant
Natalie Ragan, personal support attendant
Chika Silver-Brown, personal support attendant, lead
Respect
Harley Brown, health services coordinator
Joyce Dixon, personal support attendant, lead
Alyssa Quintrell, personal support attendant
Lloyd Stilwell, personal support attendant
Excellence
Denise Beck, qualified developmental disability professional
Choco Gbomina, personal support attendant
Kimmy Loboda, human resources specialist
Home
Tina Boyd, personal support attendant
Donna Davidson, personal support attendant
Cheryl Ellis, residential support supervisor
Coco Walker, personal support attendant
Reliability
Tesfay Berhane, personal support attendant
Ginni Gilgour, administrative assistant
Serge Ngounou, personal support attendant, lead
Nurudeen Owodunni, programs manager
Aggrey Seemani, personal support attendant
Tom Wagner, maintenance specialist